The Valiant
Edit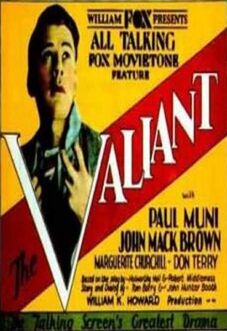 1929, directed by 
William K. Howard
(IMDB Link) TCM Summary: An adaptation of a play by Holworthy Hall and Robert Middlemass, The Valiant stars Muni as a murderer who confesses his crime to the police, willingly accepts his death sentence and even pens a series of newspaper articles while on death row - "The Folly of Youth Crime" - to save others from his fate. Yet he never reveals his true identity to the police or to the world.
Community content is available under
CC-BY-SA
unless otherwise noted.