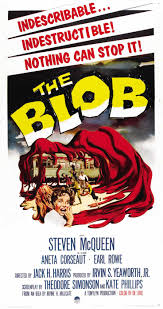 1958, directed by
Irvin S. Yeaworth, Jr.
(IMDB Link) IMDB Summary: An alien lifeform consumes everything in its path as it grows and grows.
Steve McQueen - Steve Andrews (as Steven McQueen)
Aneta Corsaut - Jane Martin (as Aneta Corseaut)
Earl Rowe - Lt. Dave
Olin Howland - Old Man (as Olin Howlin)
Stephen Chase - Dr. T. Hallen (as Steven Chase)
John Benson - Sgt. Jim Bert
George Karas - Officer Ritchie
Lee Payton - Kate the Nurse
Elbert Smith - Henry Martin
Hugh Graham - Mr. Andrews
Vincent Barbi - George, Cafe Owner (as Vince Barbi)
Audrey Metcalf - Elizabeth Martin
Jasper Deeter - Civil Defense Volunteer
Tom Ogden - Fire Chief
Elinor Hammer - Mrs. Porter
Pamela Curran - Smooching Teenager
Ralph Roseman - Blob Victim Working on Car
Charlie Overdorff - Minor Role
David Metcalf - Drunk at Door
Josh Randolph - Teenager
George Gerbereck - Minor Role
Julie Cousins - Sally, Waitress
Keith Almoney - Danny Martin (as Kieth Almoney)
Eugene Sabel - Minor Role
Robert Fields - Tony Gressette
James Bonnet - 'Mooch' Miller
Anthony Franke - Al
Molly Ann Bourne - Teenager
Diane Tabben - Teenager
Russ Conway - Boy Running Out of Theater (uncredited)
Howard Fishlove - Man Running Out of Theater (uncredited)
Jack H. Harris - Man Running Out of Theater (uncredited)
Community content is available under
CC-BY-SA
unless otherwise noted.