The Barbarian and the Geisha
Edit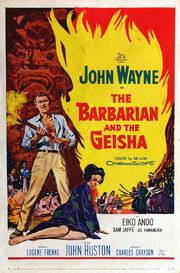 1958, directed by
John Huston
(IMDB Link) TCM Summary: Townsend Harris is sent by President Pierce to Japan to serve as the first U.S. Consul-General to that country. Harris discovers enormous hostility to foreigners, as well as the love of a young geisha.
John Wayne - Townsend Harris
Eiko Ando - Okichi
Sam Jaffe - Henry Heusken
Sô Yamamura - Governor Tamura (as So Yamamura)
Ryuzo Demura - Thug (uncredited)
Kodaya Ichikawa - Daimyo (uncredited)
Tokujiro Iketaniuchi - Harusha (uncredited)
Fuji Kasai - Lord Hotta (uncredited)
Takeshi Kumagai - Chamberlain (uncredited)
Fuyukichi Maki - Peasant (uncredited)
Morita - Prime Minister (uncredited)
James Robbins - Lt. Fisher (uncredited)
Norman Thomson - Captain Edmunds (uncredited)
Hiroshi Yamato - The Shogun (uncredited)
Community content is available under
CC-BY-SA
unless otherwise noted.