Shoot the Piano Player (Tirez sur le pianiste)
Edit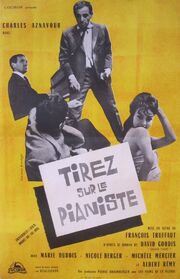 1960, directed by 
François Truffaut
(IMDB Link) Criterion Summary: Part thriller, part comedy, part tragedy, Shoot the Piano Player relates the adventures of mild-mannered piano player Charlie as he stumbles into the criminal underworld and a whirlwind love affair. Loaded with gags, guns, clowns, and thugs, this razor-sharp homage to the American gangster film is pure nouvelle vague.
Community content is available under
CC-BY-SA
unless otherwise noted.