Les Cousins
Edit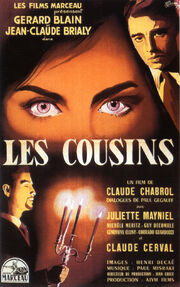 1959, directed by
Claude Chabrol
(IMDB Link) AllMovie Summary: Charles is the cousin from the provinces with "bourgeois" values. His steadfast determination unfortunately does not help him pass exams or at first, succeed with women. Paul is the urbane, rather debauched and decadent cousin who appears to conquer all. Appearances can be deceiving as they soon discover when Charles falls for Paul's friend Florence -- and tragedy waits in the wings.
Community content is available under
CC-BY-SA
unless otherwise noted.